More thoughts
My grandfather's passing evoked several emotionals.
There is sadness for his loss and regret that I never really go to know him.
But his death also made me realize how important family is to me.
How important family is to my life.
This experience made me regret that peb cov kwv tij hmoob Cha is not closer.
Nim ua rau kuv ntshaw ntshaw kwv tij tiag.
Growing up the Cha's have always been a small group.
And because of a corrupted leader, all the uncles now hate each other—even blood brothers.
So, us Cha cousins never bonded and grow up with clan pride.
I feel so loved by all my aunts and uncles.
I told them that even though I've never even seen some of them in my life before, I feel more love from this family (mom's side) and all of my life from my dad's side.
The beginning of my speech at the funeral:
"Kuv yog Vam Leej Tsab. Kuv yog Mai Doua tus tub hlob. 30 xyoo dhau los txog hnub no, kuv li mam rov pom kuv cov dab laug thiab cov niam tais. Mam li los pom niam tais Oo thiab tais Ntxawm uas yog ob tus zov kuv thaum kuv tseem yog baby xwb. Peb tau sib ncaim ntev kawg li.
Kuv yawm txiv yog noob zoo. Vim li cas kuv hais li nod? Kuv ces, hais tiag no, yeej yog stranger ntawv nej. Tiamsis ua cas thaum kuv tuaj txog Stockton 2 lub week tas los nov, nej nim sib txeeb hlub kuv. Sawvdaws mas nim caw kuv mus pw tim lawv tsev. Kuv twb tsis muaj caij kiag li los, tseem chim taus thiab! Peb phaj cousin los txawj sib hlub kawg li thiab. Nag hmo, Joshua, Timothy, thiab Bruce pab kuv kho kuv lub cheb tau lawm. Cov kwv tib, tu siab heev, peb cov Hmoob Tsab tim MN tsis txawj sib hlub li nej. Nej puas kam kuv los ua Hmoob Lee na?"
It's true. I wished my mom was my dad so that I could carry the Lee clan. During my stay in Stockton, both before and after grandpa's death, I earned tremendous respect from all my aunts and uncles. They praised me and said very good things to my mom. One told me that I have so much leadership skills, he's counting on me to keep the family together. Another uncle insisted that I help him start of a family business in Grandpa's name. Many told me, including my grandmother, that it was God's will to have me at my grandfather's funeral. They thanked me for the tireless hours of work…and I have to say, I did a lot! Created grandpa's program, scanned and organized hundreds of family photos for picture slide show, and running many errands for the uncles (Christian funerals are different from regular Hmong funerals). I just feels so good, so right. Why is this important to me? It's not about ego. It's about my place in the family. And it's about making my mother---a strong Hmong woman who never remarried---proud of her family and son. In some small ways, it's also about overcompensating the love and respect I never received from my own father and clan. This funeral was the first time, really, that I exibited tus txiv neej yawg in me at a large family event. I was the only grandchild right there with the elders.
After grandpa's burial, there was family meeting. At the end of that meeting, Yawm Txiv Waying thanked me and unexpectedly solicited to all the family members for $ donation to help me because I told him a few days before that my car was broken into while in Fresno. I received $970 from my aunts and uncles. I was just speechless. I love this family.
All Grandpa's children and spouses (12 kids)
I have 68 first cousins on my mother's side.
About 45 of them attended the funeral.
One of my grandfather's dying wish is to see that all his children and grandchildren love one another.
So I rallied up all the cousins for a dinner at a chinese buffet.
Said a few words to all the cousins about grandfather, how special he was, what he wanted for his grandchildren, etc., and asked the older counsins to also say a few words.
It was a nice bonding evening for all of us.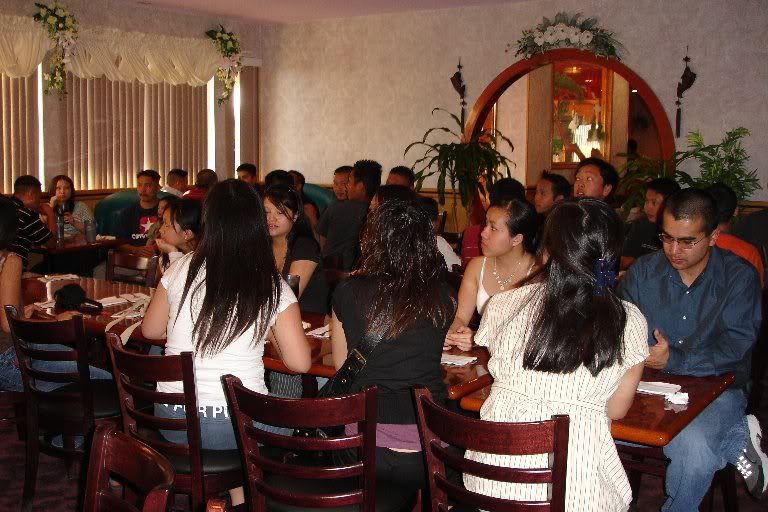 Our buffet get-together in Stockton, CA.

One thing I noticed about my cousins and maybe Cali ppl in general. Most are not very motivated in school and career. Most work blue collar type jobs. Out of 69 grandchildren, only Xes and I have B.A. and beyond. There's something about California and the SW that's not very promising. Too laid back. Maybe it's the hot sun? E.g., I remember talking to my 17 year old counsin, Rebecca, about her relationship with her boyfriend. She had already made plans to marry him in a couple years. I couldn't believe what I was hearing. Here is this smart, beautiful, independent young woman...about to throw her life away by making plans to get married already!! So I told her (and her dad) my story and the stories of countless others. I insisted that she goes to college like she planned and not be too serious with the only guy she's dated since...the 8th grade! My goodness! Rebecca's looks reminds me a lot of my sweet Jasmine when she was her age. *sigh*